In 2023 Toyota Mirai is a new revolutionary hydrogen car by Toyota that promises better fuel options for cars that will fill your car fuel tank in just five minutes.
By focusing on the production and use of green hydrogen derived from renewable energy sources, India aims to significantly reduce its carbon footprint, targeting a 45% reduction by 2030.
The fuel evolution for cars has drastically changed over the years from petrol to diesel, LPG to CNG, and now electric cars are running on the roads.
Every big automobile industry is moving into electric vehicles and launching a new EV every six months. Nowadays EVs are very popular because of making a difference every day in terms of reducing carbon emissions.
Toyota Mirai 2024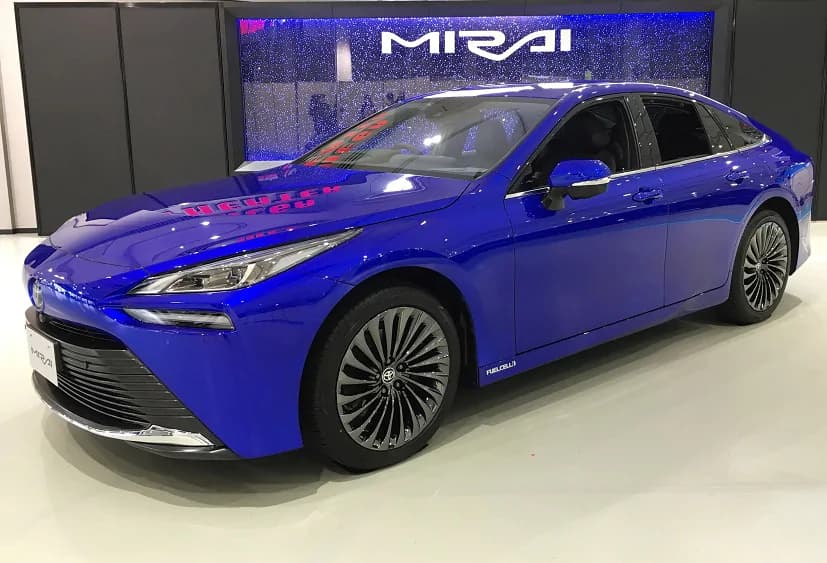 Toyota Mirai, a car that runs on hydrogen fuel cells, is part of a test project with the Indian government. The International Centre for Automotive Technology (iCAT), a government in India that tests cars, has agreed to work on this. Toyota Kirloskar Motor and iCAT are working together on this project to see how well hydrogen electric vehicles can work in India.
Toyota Mirai is a hydrogen fuel-based technology car that promises zero carbon emission. In January 2023 Toyota Mirai's second Generation car was showcased at the Auto Expo Delhi.
In India, Nitin Gadkari, Minister of Road Transport & Highways was the first person who unveiled the Toyota Mirai in March 2022 and since then used it for his daily transportation.
Latest Update on Toyota Mirai in India
Recently, Nitin Gadkari passed it on to Tejashwi Yadav, Deputy Chief Minister of Bihar in August 2023. Nitin Gadkari has moved on to the Hyundai IONIQ 5 EV car.
The Toyota Mirai is a part of a pilot project to test hydrogen fuel-based vehicles in India for now there is no mention of hydrogen fuel cars in the FAME (Faster Adoption And Manufacturing Of Hybrids And Electric Vehicles) II.
But soon there will be a new improved FAME III released by the Indian Govt. which will include Hydrogen-fuel cars as well as ethanol-powered cars. Right now Toyota Mirai and Hyundai Nexo are the only Hydrogen fuel cars linked to India.
In this article, we will know more about What is Toyota Mirai and how it will turn the fuel options in the future for cars.
Read more: – Hydrogen Cars in India
What is Hydrogen Fuel-Cell Technology and Toyota Mirai
To reduce our carbon footprint and save the planet, a new environment-friendly technology has been introduced by Toyota.
The Hydrogen Fuel-cell is one of those revolutionary technologies based on Hydrogen which collects oxygen from the environment and reacts with hydrogen molecules stored in three cylinders and generates power for the car.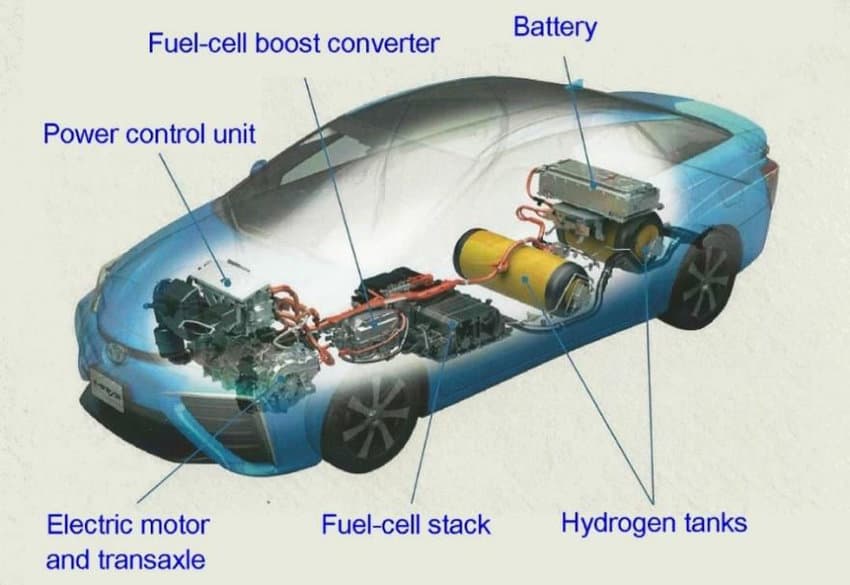 Globally introduced by Toyota in 2020, Toyota Mirai is based on Hydrogen Fuel cell technology that runs on gree hydrogen, and its end byproduct is only water. Mirai is a Japanese word that means 'future'. Toyota Mirai will be the future of the FCEV cars with zero-carbon emission technology.
Like to know more – Electric SUV Cars in India
Toyota Mirai 2024 Specifications and features
The car's electric motor is at the back and has a power of 182 horsepower with a torque of 221 pound-feet. It looks sleek on the outside but inside, it has a powerful electric engine. This allows the car to accelerate well, going from 0 to 60 mph in about 9.2 seconds, although this can change depending on how you drive and other things
2024 Toyota Mirai Models and Variants
Toyota Mirai launched its second-gen model with a completely new design to its prototype model slick styling, a low-slung stance, and a coupe-like rear.
2024 Toyota Mirai Technology
Toyota Mirai 2024 is to be based on the GA-L rear-wheel-drive platform, which has allowed Toyota to repackage fuel-cell stack and drivetrain components. It also accommodates as many as three hydrogen tanks, helping it increase its total range.
Read more:- Top 10 Highest Selling Cars in India
2024 Toyota Mirai Engine and how it works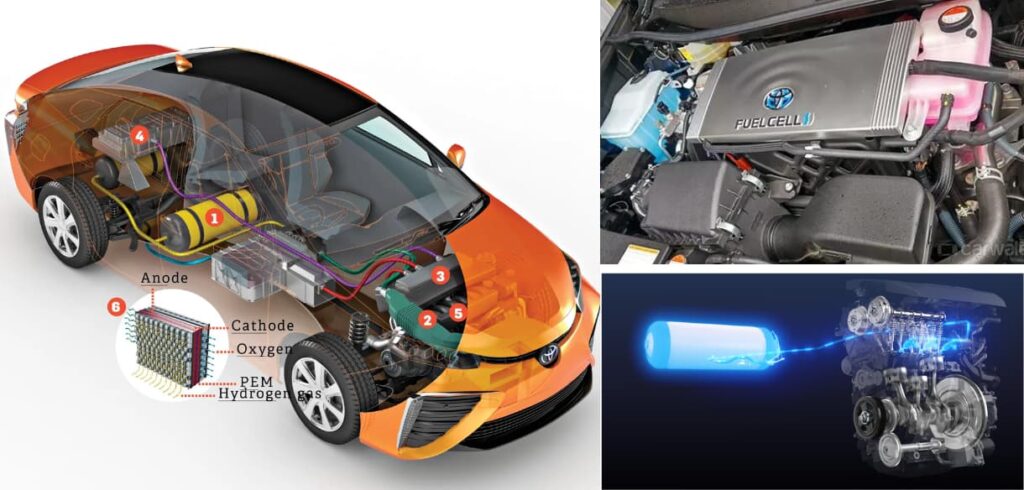 The Toyota Mirai 2024 engine is based on the fuel-cell electric powertrain, which means Fuel cells use hydrogen atoms' electrons to generate electricity when they react with oxygen, creating a small amount of water as a byproduct.
Toyota Mirai is a truly amazing car and its Fuel-cell EV warranty covers all fuel-cell electric drivetrain components for eight years or 100,000 miles.
Read More: Auto Expo: Schedule Date, Venue, Location & Ticket Price
2024 Toyota Mirai Range and power
Toyota Mirai makes 174hp from the hydrogen fuel cell stack and is said to have a driving range of around 640 km.
Toyota Mirai Charging Time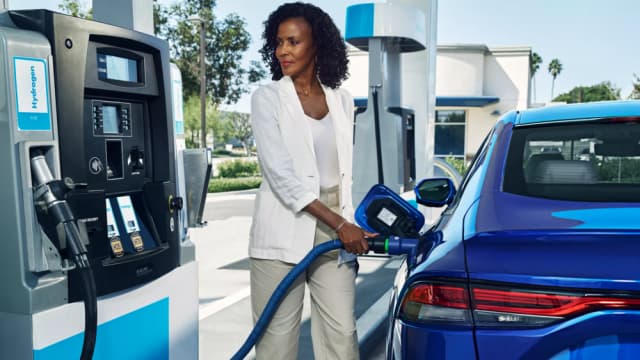 Unlike other EV cars, there is no need to wait to charge your Toyota Mirai based on the Hydrogen Fuel-Cell Vehicle (FCEV) technology.
How long Toyota Mirai takes to fill the hydrogen fuel tank
It's just like a gas station a hydrogen fuel pump will have a nozzle you can bring to the vehicle's loading port. The hydrogen is pumped in and then moved to the carbon fiber-reinforced tanks. The hydrogen fuel tanks fill up less than in a minute or take up to five minutes for near-empty tanks.
Toyota Mirai Launch in India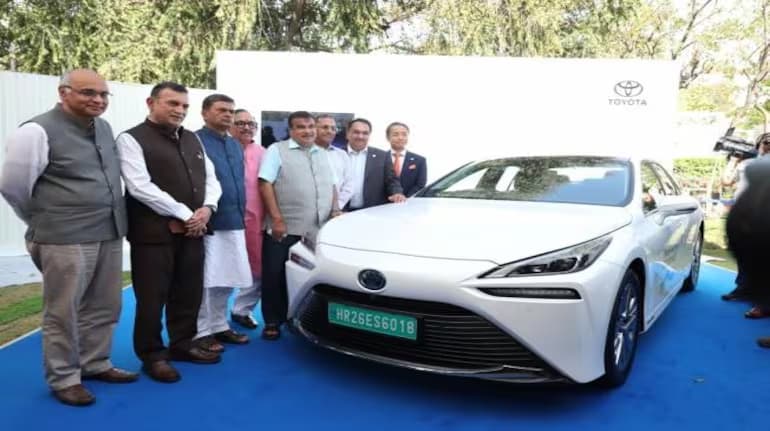 In India, Toyota Mirai is expected to launch in Q3 2024 as soon as the FAME III is released by the Indian government.
2024 Toyota Mirai on road price in India
The Toyota Mirai price in India is expected to be INR 60 Lakh onwards, which equates to approximately $72,057.
Toyota Mirai Booking
As soon as Toyota Mirai launches in India, you can book this hydrogen fuel cell car on Toyota's official website.
For two years Toyota Mirai has been tested for Indian roads and conditions. Soon Toyota Mirai will be tough competition for other alternate fuel-based cars including EVs.
Also Know: Amazon To Sell Hyundai Vehicles Online
For more information about Toyota Mirai, you can explore Wikipedia.
FAQs
Q. 1 Is there a car that runs on hydrogen?
Ans Toyota Mirai and Hyundai Nexo are the only Hydrogen fuel cars linked to India.     
Q. 2 Are hydrogen cars better than electric ones?

Ans Yes, hydrogen cars are better as they don't need any charging time and give a higher range than the EV car.
Q. 3 Can I buy a hydrogen-powered car in India?
Ans  No, There is no policy in FAME- II for hydrogen-based cars. But soon Indian govt. Started to work on the FAME-III including hydrogen and ethanol-based fuel cars.
Q. 4 Is the Toyota Mirai electric or gas?
Ans Toyota Mirai is a hydrogen gas-based car, that works on the FCEV technology and later produces electricity to power the engine.
Q. 5 How many km per tank does a Toyota Mirai get?
Ans A Toyota Mirai has covered more than 1,000 km on a single tank of fuel, surpassing previous long-distance achievements