Yamaha has showcased a new version of its Motoroid concept bike 2023-24. This bike is unique from other motorcycles, because of its features like a moving swingarm,  AI features that can human face, and it can balance by itself.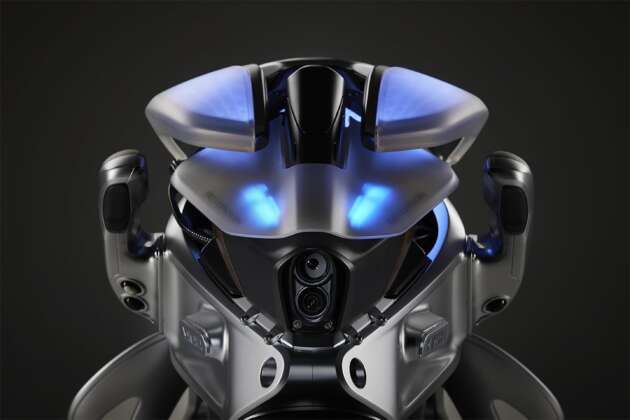 Yamaha Vision
How will people and machines work together in the future? Yamaha Motor created a model called MOTOROiD to explore this to connect machines and huma. They believed that if a rider and machine connected like close partners, it would create a unique bond called "Jin-Ki Kanno". MOTOROiD concept first showed in 2017, they've kept improving it, bye design and advanced features.
Meet the future on two wheels! 🏍️
Yamaha Motoroid 2 is changing the game with cutting-edge self-balancing technology. Are you ready for this ride? 🤖 https://t.co/euq9JaNKKL#YamahaMotoroid2 #FutureOfRiding #TechOnWheels #YamahaRevolution #BabarAzam #INDvsENG pic.twitter.com/GxaSc1PWTC

— The Journal Bharat (@JournalBharatIN) October 25, 2023
Yamaha Motoroid 2
The newer version, MOTOROiD2, is a personal vehicle that knows its owner with face recognition technology . It is a self balancing motorcycle that can stand up by itself and walk with the rider. It feels more alive, especially when someone is riding it, almost like a close friend. It has better balance and can even recognize the owner's face and actions. Plus, MOTOROiD2 has a unique design that responds more naturally to the rider.
The bike's battery and the swingarm move together to help balance the bike. Yamaha named this feature the Active Mass Center Control System (AMCES)."
Read more: Top 10 Self Balancing Bikes and Scooters
Yamaha Motoroid 2 Price
The Yamaha Motoroid, a new self-balancing bike, is expected to price around $4,100. In Indian Rupees, this would be about INR 3,41,702. This bike is special because this futuristic bike, which boasts advanced technology and innovative features, is making waves in the motorcycle industry.
Yamaha Motoroid 2 Design
The 2017 Yamaha MOTOROiD has some updates. It has a new look, and some shiny, big side stands that look like training wheels. The handles are different and moved to a new spot, and there's a cool new headlight in front.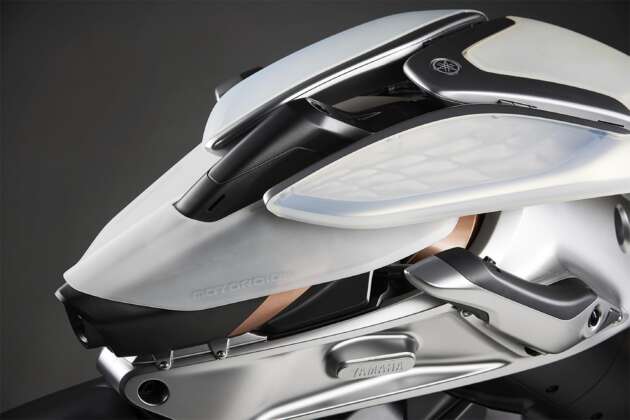 It's an electric motorcycle with a special rear wheel design. This wheel can tilt side to side on its own because of a swingarm connected to a pivoting point under the seat. The bike also has a white design that reminds some people of medical equipment.
Ola Diamond Head Bike Price, Launch Date, Top Speed, Range, Features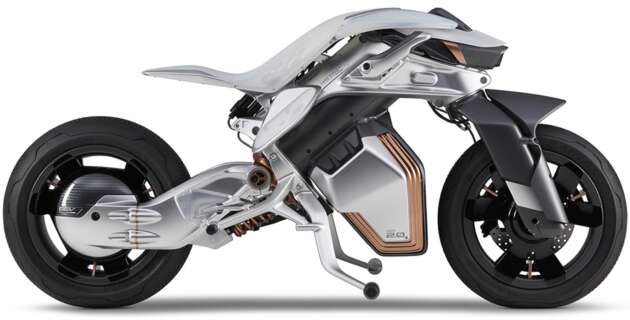 In the older version, shown in a video, the bike had arms that could reach out and hold the rider. The new version doesn't have these arms anymore."
The front wheel of the bike looks normal, even if it's a bit bulky. But when you check the handlebars, they're fixed in place, meaning they can't turn the wheel the usual way.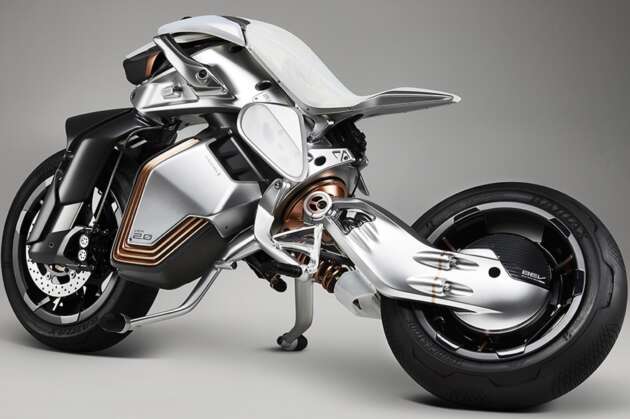 How do you ride it? It's a mystery. But the Motoroid 2 can balance itself, stand up without help, and even move on its own. With facial recognition and hand signals, the rider can ask the bike to follow them.
Some of these features were also on the first version of the Motoroid, introduced about six years ago. You can watch a video to see how this unique bike balances and moves."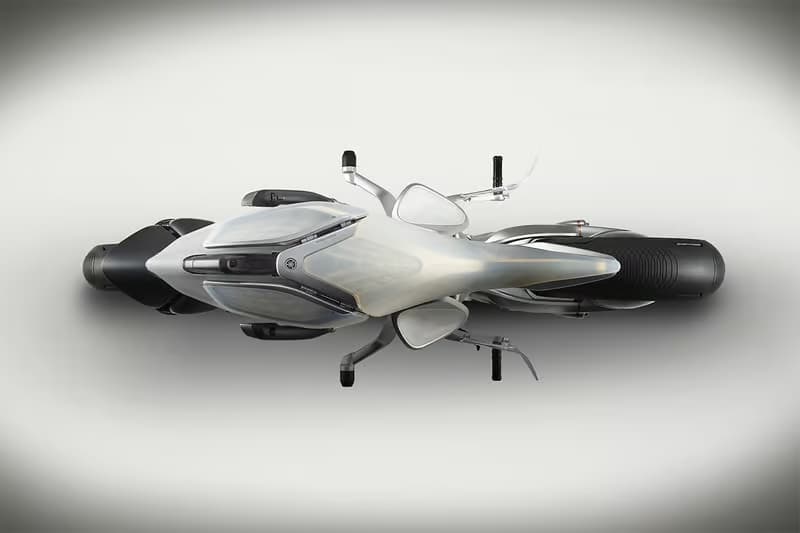 Yamaha Motoroid 2 Features.
Yamaha's self balancing bike has a unique feature: a part of its body, made of see-through white material with blue lighting, can lift up. Yamaha hasn't explained why this part moves, but maybe it's for storage or just for show.
Like to know – Liger Mobility Self-Balancing Scooter
The company says that riding the Motoroid 2 feels very lifelike, like you're with a long-time friend, even though it doesn't have the arms to hold the rider anymore.
It's unlikely Yamaha will sell this bike as a regular product. But they have made a real version that can balance by itself. They've spent time improving it into this second version, which is rare.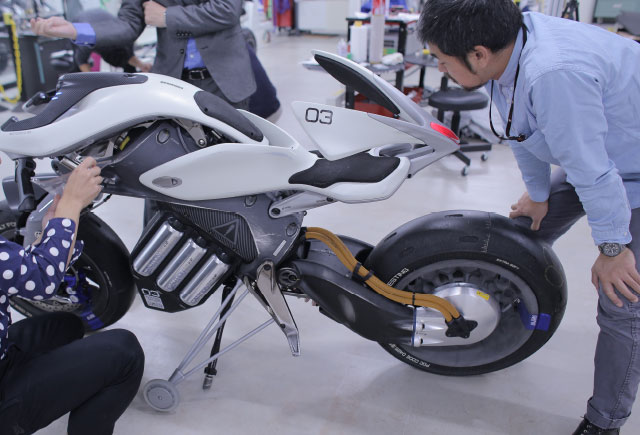 Details on Yamaha's Self-Balancing Technology:
Balancing with Gravity: Yamaha's 'Motoroid' can adjust its balance by moving its battery pack either to the left or right.
Stabilizing Mechanism: The electric actuator uses a pendulum system and small drive movements to ensure the bike remains stable when stationary, starting, or stopping.
Ideal for Deliveries: One main use for bikes with this tech could be in the delivery industry, which often involves many short, slow trips.
Handlebar Adjustments: Tiny adjustments in the handlebar angle, especially at speeds below 3mph, help keep the bike stable, similar to how we balance regular bikes when they're not moving.
Progress in Tech: Yamaha has tested this system on a YZF-R25. It's a step towards making this technology available for regular bikes. The next goal is to make the stabilizing components smaller.
Yamaha has designed a unique and futuristic motorcycle that has some cool balancing features. The bike also has fixed handles and a cool-looking headlight. People can see it at the Japan Mobility Show 2023 starting October 26 month and Launch date is expected Q4 2024.
Auto Expo 2025: Schedule Date, Venue, Location & Ticket Price