Bharat NCAP is a new program introduced in India. Meanwhile, Global NCAP is already running in the world to give the safety rating to the new car launches by various companies. This article provides all the necessary information on Bharat NCAP vs Global NCAP.
What is Bharat NCAP?
The new voluntary safety rating program for passenger automobiles in India is known as the Bharat New Car Assessment Programme (NCAP). The Minister of Road Transport and Highways introduced this new Bharat NCAP on 22 August 2023.
In accordance with the procedures outlined in the soon-to-be-published Automotive Industry Standard 197, vehicles that automobile manufacturers voluntarily nominate will be crash-assessed under the Bharat NCAP program. The plan applies to passenger vehicles with a gross vehicle weight of no more than 3,500 kg and no more than eight seats total, excluding the driver's seat. A given variant's base model will be the only one examined.
Despite the fact that Bharat NCAP is voluntary, in some circumstances, the Ministry of Road Transport and Highways may recommend a model for testing in the context of safety for the public or as the base model of a popular variant (minimum clocked sale of 30,000 units). Automobile manufacturers have offered a total of 30 car models for crash testing under Bharat NCAP, according to officials from the Ministry of Road Transport and Highways, without sharing the identities of the automakers ready to participate.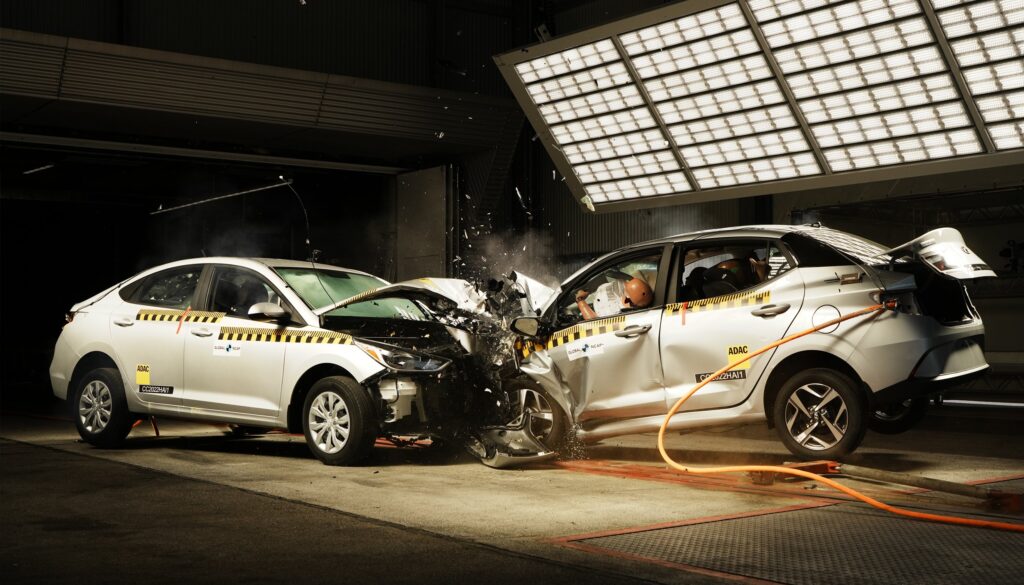 What is Global NCAP?
A significant undertaking of the Towards Zero Foundation, a UK-registered charity, is the Global New Car Assessment Programme (Global NCAP).
Global NCAP encourages worldwide implementation of the most crucial United States motor vehicle safety standards by acting as a platform for cooperation among new car assessment programs. The following vision, mission statement, and action plan have been adopted by Global NCAPs.\
Bharat NCAP Collaboration with Global NCAP
The testing procedures and scoring methodology used by the Bharat NCAP were heavily influenced by Global NCAP. Their technological knowledge assisted the Indian government in developing a thorough framework that complies with UN vehicle safety regulations. Additionally, Global NCAP held crucial training sessions for the employees of the Automotive Research Association of India (ARAI), who will carry out the crash tests. This collaboration represents a significant advance in improving vehicle safety on Indian roads and ensuring safer travel for all road users. To support the creation and application of the Bharat NCAP, Global NCAP and the Indian government will continue their collaboration, including continuous technical support, training efforts, and data analysis.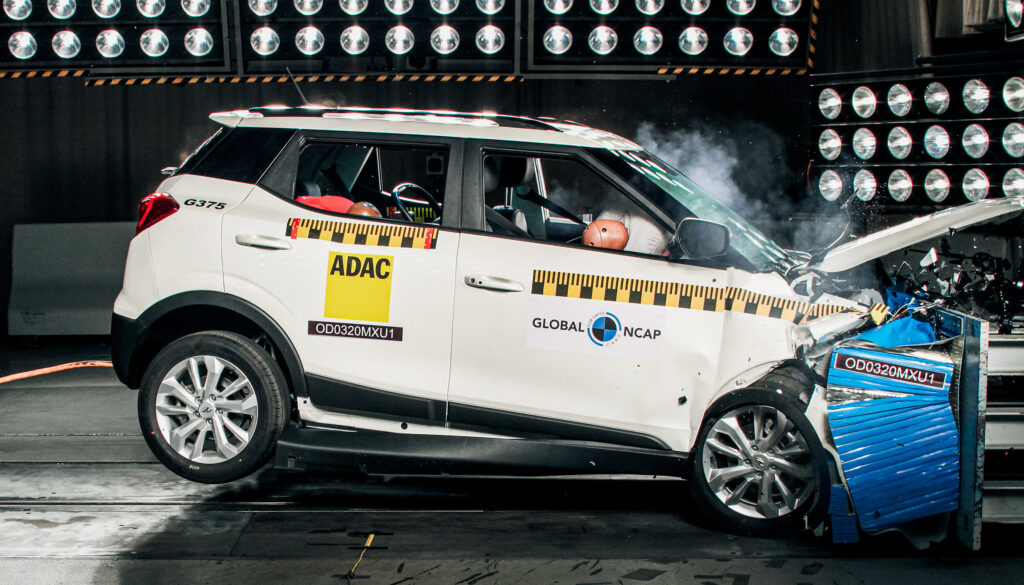 What are the Benefits of Bharat NCAP?
Industry analysts predict that the Bharat NCAP will increase consumer safety by making Indian cars safer ultimately.
The cost will encourage automobile manufacturers to test their vehicles under the Bharat NCAP program by making it easier and cheaper for them to do so.
Bharat NCAP vs Global NCAP
Adult Occupant Protection (AOP) vehicle ratings are capped at 34 points under GNCAP and 32 points under BNCAP. For the front and side impact tests, both testing methodologies award 16 points apiece, but GNCAP adds two more points for seat belt reminders—a half-point for each front seat and a full point for the second row.
Contrarily, BNCAP does not give points for seat belt reminders. However, even though it just applies to the front seats, it requires it to have a 3-star rating or better. The MoRTH previously required rear seat belt reminders in a draught notification, which manufacturers swiftly implemented in their products.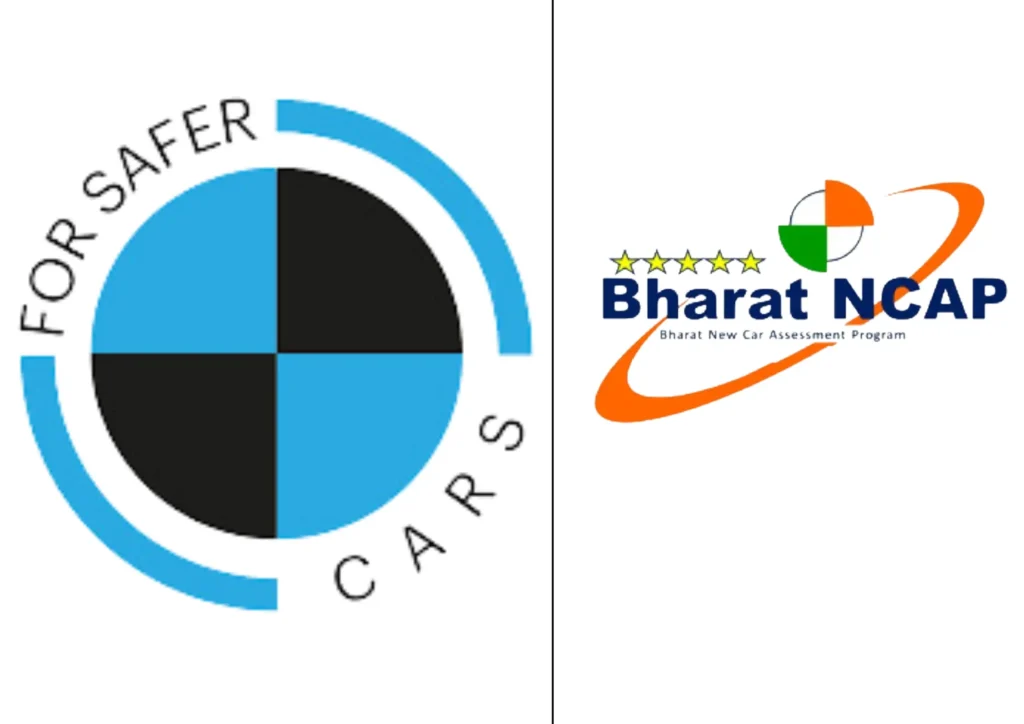 Similarities Between Global NCAP and Bharat NCAP
Many key points make Bharat NCAP similar to Global NCAP.
Both BNCAP and GNCAP assign 16 points for the frontal impact test, 8 points for the side impact test, 12 points for the child restraint system (CRS), and 13 points for the ease of use of ISOFIX mounts, the availability of a three-point seat belt, and other vehicle-based examinations.
ESC is now a choice in cars, but starting in 2024, it will be required for vehicles to receive a 3-star rating or higher. The two-step approach requires that ESC be installed as standard equipment in the automobile model that sells the most units and becomes a stand-alone function within the two years following the test results.
Both programs state that airbags or other types of head protection are required for vehicles to pass the side pole impact test. A vehicle's variation must have head protection in 50% of its variants by the end of 2023, 70% by the end of 2024, 90% by the end of 2025, and 100% by the end of 2026 in order to receive a 5-star rating.
The protection of pedestrians is equally important to GNCAP and BNCAP. In order for cars to receive a high grade, BNCAP mandates that they adhere to AIS100 requirements, which are comparable to the UN127 norms GNCAP mandates.
Conclusion of Bharat NCAP
It is necessary to introduce such a program in India so that everyone can purchase the safest car for themselves and their family. However, it is necessary as India faces approx 1130 deaths every day due to road crashes. To overcome the road crash accident, Bharat NCAP was introduced by Nitin Gadkari, Minister of Road Transport and Highways. However, Bharat NCAP gives the safety ratings to cars after a test, which gives every car buyer detailed information about the car's Safety measures.