So, here's another year that is going to end soon, and the winter season is coming. Here, we are going to see the Top 10 places to visit in December with your family, friends, and loved ones. The most exciting thing to do in winter is to travel solo, which will boost your mental health and give you new shine and memories with unknown people in new places. So, this winter, pack your bags, book your tickets, and go on a trip to create unforgettable moments of 2023. Let's take a look at the top 10 best places to visit in December in India. 
Top 10 Best Places to Visit in December in India
1. Shimla, Himachal Pradesh
Shimla, also known as the "Queen of Hills," is renowned for its magnificent landscape, which includes lush vegetation and snow-capped mountains, as well as its comfortable climate. Who wouldn't want to visit this magnificent hill station, right? Any time of the year is fine to visit, but December is particularly lovely because Shimla gets a lot of snowfall during this month, especially around Christmas Eve. Shimla is thus one of the most well-liked destinations in India to visit in December if you want to experience snowfall and go ice skating.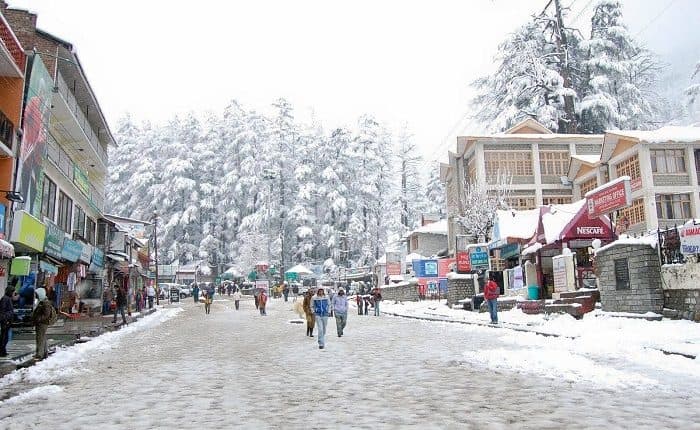 Places to Visit in Shimla
The Ridge
Hanuman Mandir Temple, Jakhoo
Christ Church
Kali Bari Temple
Mall Road
Activities to do in Shimla
You can make your trip more exciting by trekking to reach Jakhoo Temple. You can enjoy the Toy Train Ride in Shimla to explore the best scenes. To explore the beauty, you can visit the Chadwick Waterfall and make your eyes calm and feel nature. To do shopping, you have to visit the Lakkar Bazaar.
2. Jaisalmer, Rajasthan
One of Rajasthan's most popular tourist destinations is Jaisalmer. In the month of December, there is a tremendous growth in the number of visitors. Due to the golden sandstone used to construct the castles, this place is known as the "golden city."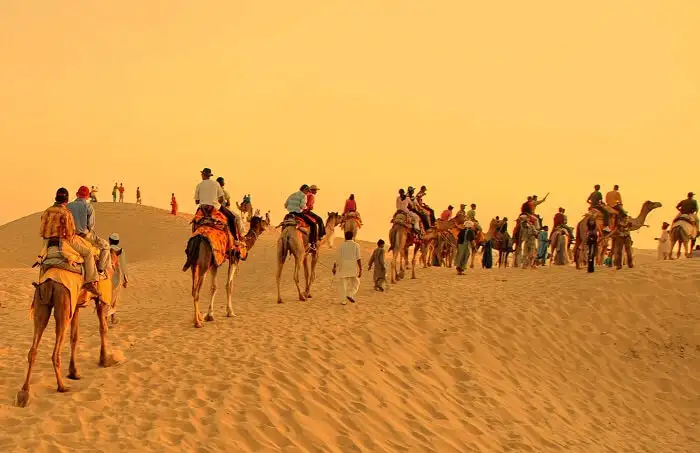 Places to visit in Jaisalmer
Jaisalmer Fort
Gadisar Lake
Desert National Park
Nathmal ki Haveli
The Thar Heritage Museum
Manak Chowk
Activities to do in Jaisalmer
To enjoy your trip to Jaisalmer, you can do Thar Desert Safari and Camping at night in the Desert. You can explore the wildlife at Desert National Park. Moreover, you can experience the Camel Ride in deserts. You can do an adventurous Parasailing in Kanoi. To enjoy the view, you have to visit Gadisar Lake.
3. Munnar, Kerala
The lovely hill station of Munnar is one of the greatest destinations to visit for couples because of the mesmerizing Annamalai mountain ranges, cool wind, colonial bungalows, emerald green tea plantations, cozy luxury resorts, stunning landscapes, and flowing waterfalls that beautify it. You will have more than enough justification to bring your family here for a vacation in December thanks to the abundance of tourist attractions and mouth watering natural beauty.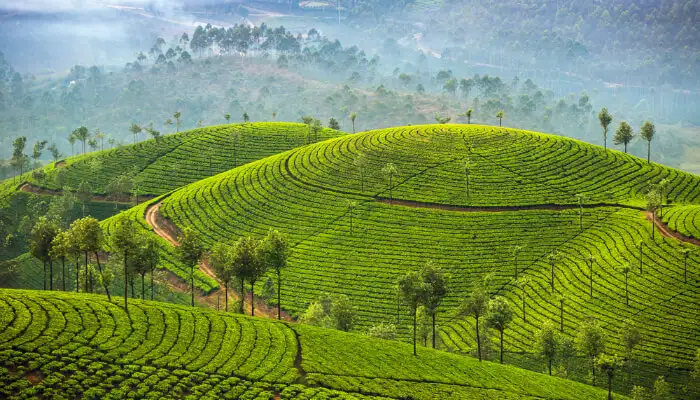 Places to visit in Munnar
Pothamedu View Point
Mattupetty Dam
Kolukkumalai
Munnar Market
Tea Museum
Activities to do in Munnar
To enjoy the beauty of Munnar, you can visit Kolukkumalai Tea Estate, one of the major tea plantation locations in the world. You can visit the Mattupetty Dam to enjoy the scenery and click your photos. You can plan your itinerary for camping and trekking at Echo Point in Munnar.
4. Goa
Where else will you be in December if not here? Goa is one of the top tourist locations in India, thus there are many reasons to visit. However, there are other benefits to vacationing in Goa in December. Christmas in Goa has a greater impact on the warmth and joy of the season. India is unaware of a place that hosts the biggest New Year's celebration. Additionally, if you are a die-hard fan of EDM (Electronic Dance Music), Sunburn is undoubtedly a treat.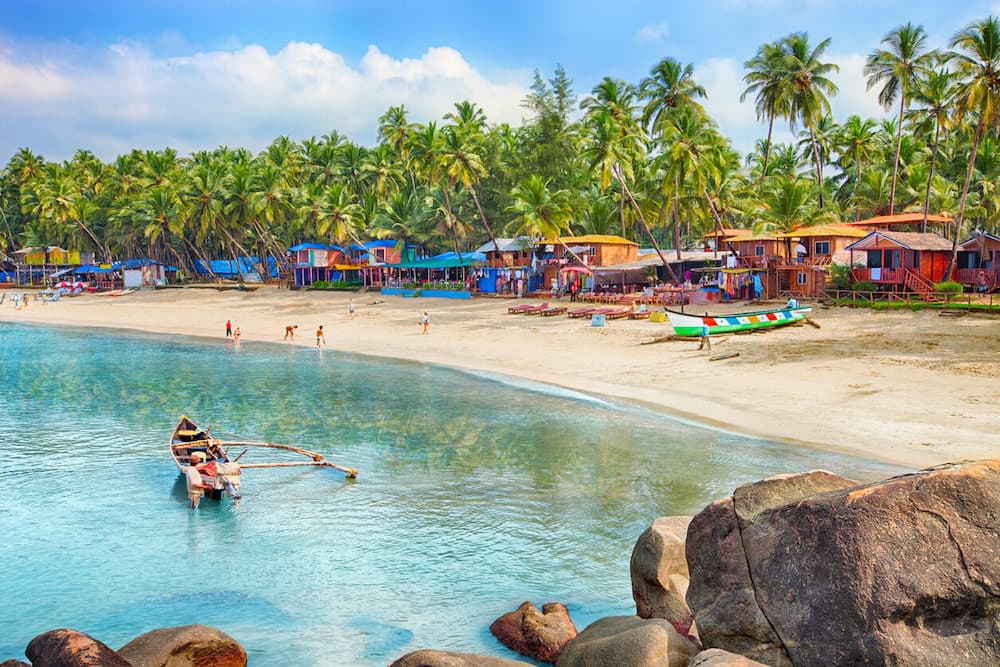 Best Places to Visit in Goa
Aguada Beach
Baga Beach
Bom Jesus Basilica
Aguada Fort
Chapora Fort
Activities to do in Goa
You can explore the sea by Scuba Diving at Grande Island and be a witness of marine life. Moreover, you can do the adventurous Hot Air Balloon Ride to see the land from 2000 ft height. You can visit the Casinos and enjoy the nightlife. You can also visit the old churches in Goa, like the Basilica of Bom Jesus, Se Cathedral, Church of St. Cajetan.
5. Dalhousie, Himachal Pradesh
One of the nicest places to travel in India in December is the charming town of Dalhousie. But why is it among the top destinations in India to visit in December? The view is incredibly iconic with its Deodar woods coated with snowflakes! With the ramp opened to the chilling weather and a view of the snow-capped mountains, this lovely winter destination becomes a ramp. Additionally, to participate in the National Himalayan Winter Trekking Expedition, all trekking lovers must travel to Dalhousie in December.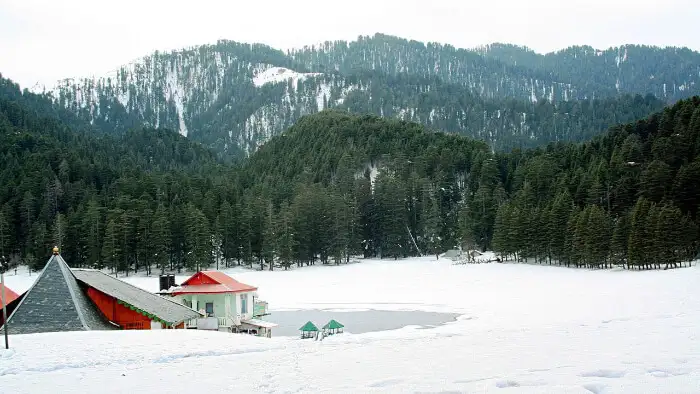 Best Places to Visit in Dalhousie
Khajjiar
Satdhara Falls
Kalatop Wildlife Reserve
St. Francis Catholic Church
Chamera Lake
Activities to do in Dalhousie
To enjoy your Dalhousie trip, you can start by taking a boat ride at Chamera Lake. You can visit Kalatop Wildlife Sanctuary to make your trip adventurous. You can visit Khajjiar, the nearest place to Dalhousie and enjoy the mini Switzerland of India. Enjoy the beautiful Satdhara Falls scene, which makes you feel like you are in heaven. To shop for your loved ones, you can visit Tibetan Handicrafts Market.
6. Auli, Uttrakhand
In recent years, the picturesque Auli has established a stellar reputation as a world-class ski resort in addition to its natural beauty. So, traveling to Auli in December can be a wonderful option if you have plans to travel somewhere exciting and fun with your pals. While you're here, take a ride on the cable car and go hiking to Gurso Bugyal and Kwani Bugyal. In addition to this, Auli offers a wealth of sights to discover, including Joshimath, Nandprayag, and the Nanda Devi National Park. It is one of the greatest locations in India to visit in December for skiing and other extreme snow sports.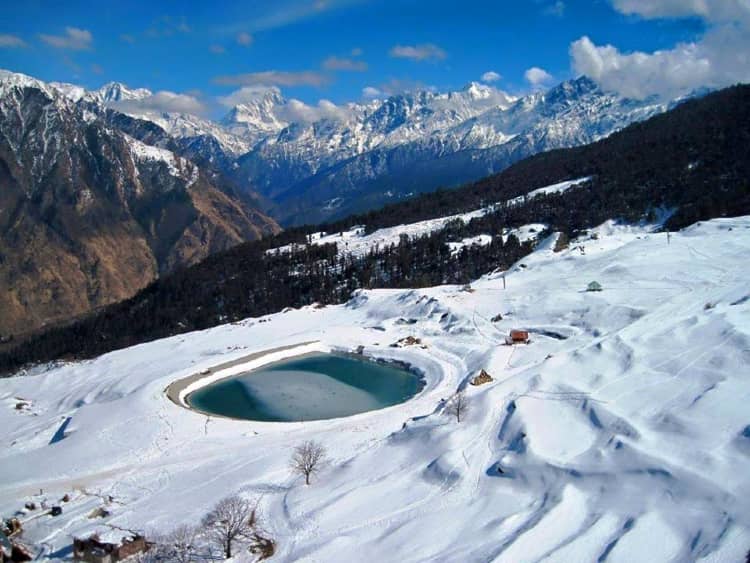 Best Places to Visit in Auli
Auli Artificial Lake
Auli Ropeway
Joshimath
Saildhar Tapowan
Valley of Flowers
Rudraprayag
Nandprayag
Activities to do in Auli
One of the best Skiing destinations in the World, Auli, you have to do once in your life to make your Auli Trip adventurous. You can visit Joshimath, located in Chamoli District. Moreover, to make your trip more memorable, you can visit Chenab Lake to enjoy the viewpoint and make your eyes relax by witnessing nature's beauty. The best thing you can do in Auli is to go on a Bird Watch Tour. To explore more species, you can visit Nanda Devi National Park.
7. Nainital, Uttarakhand
India's lake district is a true wonder, encircled by stunning mountains and blessed with perfect weather. For visitors of all types, it is one of the top locations in North India. Nainital is blessed with breathtaking beauty in December. Any traveler looking for picturesque sightseeing locations will be delighted by the picturesque vistas of snow-covered trees and mountains, lush green flora, many migrating bird species in Kilbury Bird Sanctuary, and the most stunning Naina Devi Lake that doesn't freeze in this season.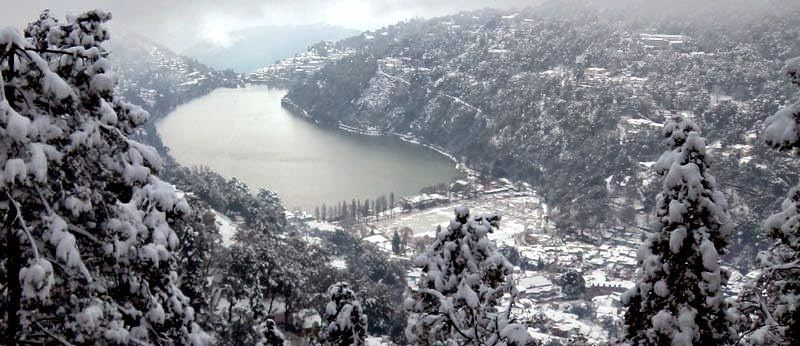 Best Places to Visit in Nainital
Naini Lake
Nainital Zoo
Eco Cave Garden
Naina Devi Temple
Naina Peak
Snow View Point
Activities to do in Nainital
After reaching Nainital, you can first enjoy the boat ride at Naini Lake. Then you can visit the holy temple of Naina Devi and feel the true spirit. One day of your itinerary, you can plan to trek to reach Tiffin Top and view the Sunrise. You can visit Nainital Zoo and Jim Corbett Wildlife Sanctuary to explore the wildlife. To explore the hidden gem of Nainital, you can visit the Eco Cave Garden.
8. Kutch, Gujrat
The Rann of Kutch is a vast area of white desert located in Gujarat's Kutch district. Starting in November and lasting until February, the renowned Rann Festival makes this location a sought-after tourist destination, with December being one of the best months to visit. It is situated in the community of Dhordo. The area is well-known for its mountainous terrain that is pleasantly cool in December, as well as for its abundance of delicious Gujarati and Kutchi food, tribal tents, and music galore. December temperatures in Kutch range from 12 to 25°C, with the desert nights getting as cold as 2°C. The winter has already set in there.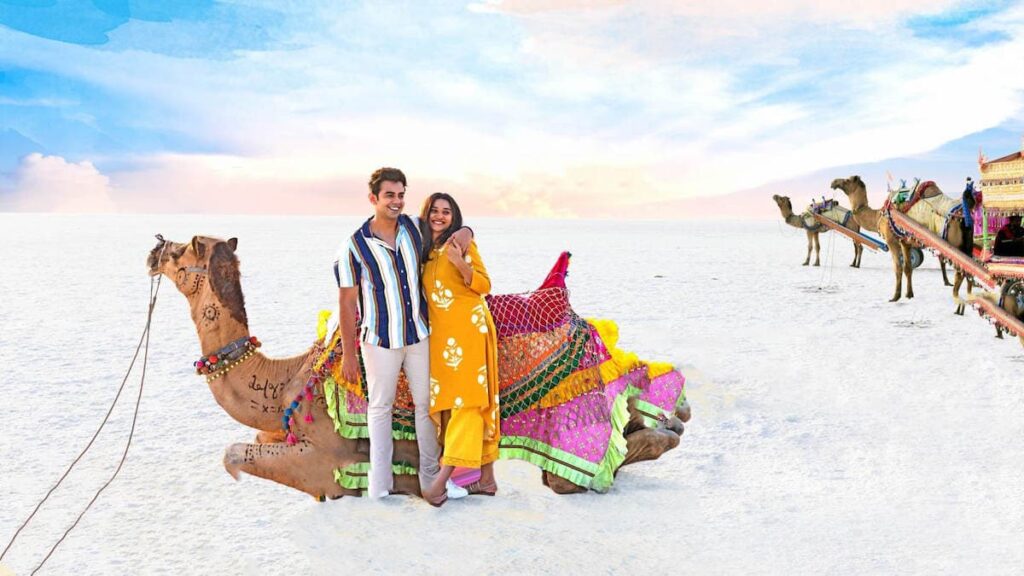 Best Places to Visit in Kutch
Great Rann of Kutch
Little Rann of Kutch
Ambe Dham Temple
Shyamji Krishna Varma Smarak
Koteshwar Mahadev Temple
Activities to do in Kutch
The Rann Utsav offers adventure activities including rock climbing, rappelling, parasailing, ATV rides, rifle shooting, and Bungee run basketball in addition to traditional workshops, mud house painting, tribal music, and dances. Also much sought after are camel rides, stargazing, and archery. You can stay in a tent in the desert and take part in all of these activities while feeling more connected to the arid environment. Parties and special Christmas and New Year camps are planned. Additionally, spas and meditations are provided, allowing you to enjoy some of the best comforts and conveniences in the "middle of nowhere."
9. Kerala
Called "God's own country," Kerala is a stunning paradise filled with palm trees and beaches, houseboats and backwaters, meditation chants, and lengthy Ayurvedic massages. It is an ideal winter getaway because it is neither too hot nor too cold there, with an average daytime high of 31°C in December. It is situated on the south-western coast of India. Rainfall is seldom and its drizzling only makes you happier. Your senses will undoubtedly be revived by the pleasant mild climate and left in awe of the natural beauty that will surround you here.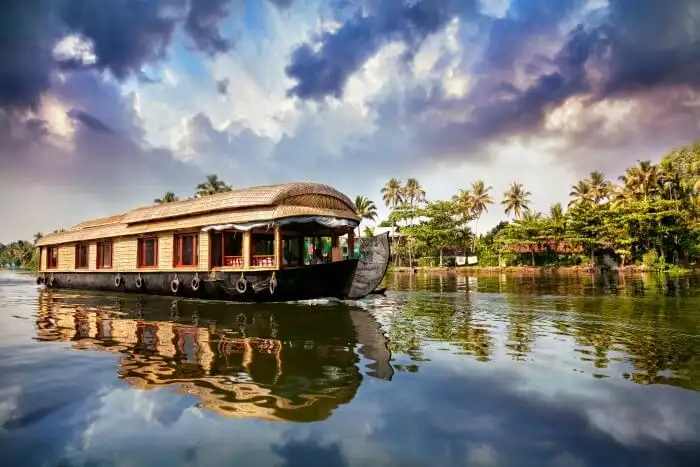 Best Places to visit in Kerala
Alleppey
Bandipur National Park
Wayanad
Kumarakom
Kozhikode
Activities to do in Kerala
Kerala is known for its backwaters, where people go to float. Hire a houseboat and go fishing, or just relax and sail into the dusk, passing by picture-perfect waterways and villages. Make an appointment for Ayurvedic services such as massages, spas, and meditation. Alappuzha, Kumarakom, and Kozhikode are some of the best backwater vacation spots in this area. While Periyar National Park and Bandipur National Park turn into getaways for environment and wildlife aficionados, Wayanad is another hill retreat.
10. Udaipur, Rajasthan
Udaipur is among the top locations to visit in December. First, the good winter weather, and second, the allure and beauty of the city continue to draw tourists from all over the world. Shilpgram Arts and Crafts Festival, which takes place in December every year, is another achievement for Udaipur. I think this festival will provide the best December holiday experience. During this exciting event, you will adore the cultural shows and enjoy authentic Rajasthani food. Remember to purchase some handmade products to help this event stick in your mind a little longer.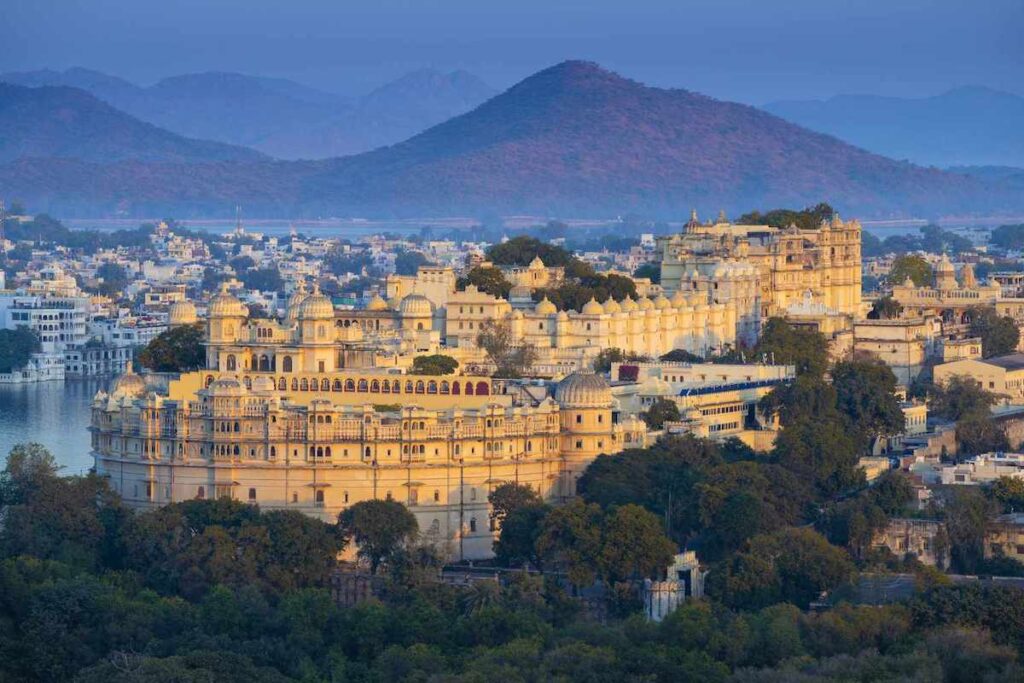 Best Places to Visit in Udaipur
Lake Pichola
City Palace of Udaipur
Shaileon Ki Bari
Bagore ki Haveli Museum
Jagdish Temple
Activities to do in Udaipur
To enjoy your Udaipur trip, you can take a sunset boat ride at Lake Pichola. To click some awesome pictures of yours, you can visit Sahlieon ki Bari. Witness the Old Royal Cars of Maharajas at the Vintage Car Museum. To do traditional shopping, you can see Hathi Pol Bazaar. Pay your respects at Jagdish Temple. Visit Sheesh Mahal and see the mindblowing infrastructure.