Bollywood actor R. Madhavan, also known for his famous role 'Farhan,' beamed with pride and happiness as his son Vedant Madhvan who was three times gold medalist in swimming, lifted the Indian National Flag in Commonwealth Youth Games 2023 ahead of his participation. Vedant Madhavan participated in the Commonwealth Games, which is organized in Spain as a swimmer, and he also had the privilege of representing 24 members of the Indian Contingent as the 'Flagbearer.'
R Madhavan posted a clip of his son's proud moment and for him as a pride moment. On his Instagram handle, Madhavan posted a heart-touching video of his son Vedant holding the national flag of India during the opening ceremony of the Commonwealth Youth Games in which he was in a blue blazer and matching trousers. Madhvan expressed his support through this clip to his son Vedant and the entire players of India and wished them good luck for the tournament.
However, R Madhavan's wife, Sarita Birje Madhavan, shared important information regarding the Commonwealth Youth Games on her instagram profile. Sarita shared the link to watch the live stream of the championship, as no channel in India is telecasting the tournament.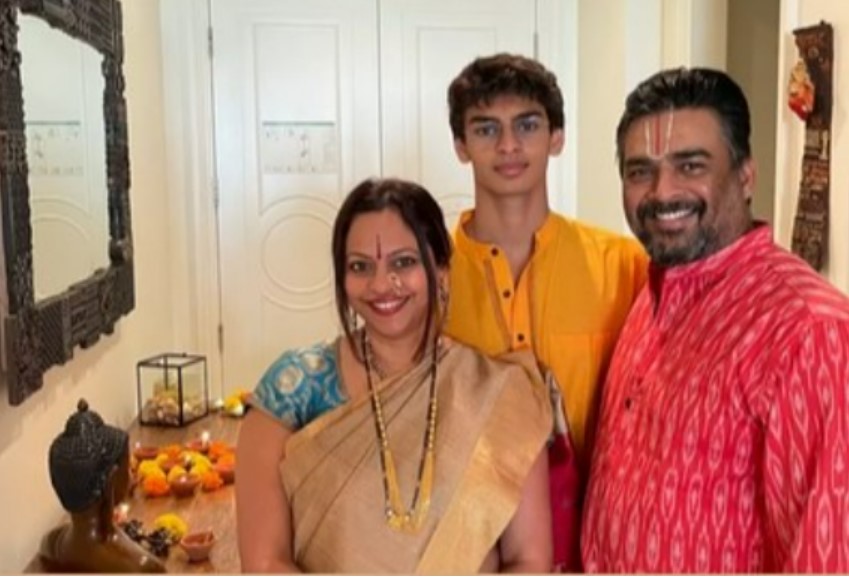 Before Commonwealth Youth Games 2023, Vedant Madhavan had already set his name in the World of Swimming Championship. He already won the title of the fastest swimmer at the Danish Open Competition 2022 in Copenhagen. Moreover, Vedant won three silver and four gold medals in the 48th Junior National Aquatics Championship and broke the record. He was also a gold medalist in Malaysian Open 2023.