Although it has yet to be officially clear that OpenAI will soon launch GPT5. There is news that OpenAI updates ChatGPT with new powerful advancements in its language processing ability.
According to the report from Windows Latest, the powerhouse of AI recently filed a new trademark application for GPT5.
OpenAI launched chatGPT in November 2022; however, chatGPT blows the mind of people. Tech lovers are surprised by the fantastic performance of chatGPT. This chatbot of Artificial Intelligence makes life easier for people, especially students and developers. ChatGPT can write the answers to typical questions, and even it cracks many competitive exams; with the help of chatGPT, students complete their assignments. However, chatGPT completes the work of several developers in just a few minutes, as it can write code for any language.
Earlier, OpenAI launched the chatGPT 4, which is more powerful and smarter than chatGPT 3.5. Now, there is news of the launch of chatGPT5 in the upcoming months.
It has been expected that now chatGPT 5 is not only processing the text, but now it can also process videos, images, and audio. The type of multi-sensory technique which has been discussed in various seminars, it has been expected that the upcoming GPT 5 will give an immersive and all-inclusive experience to its user.
Moreover, it has also been expected that GPT 5 is coming with better computational efficiency and contextual understanding.
To enhance its computational efficiency, OpenAI improves its architecture and optimizes new training techniques. Now, the user can experience a faster response time from GPT 5 than from GPT 4. Along with this, a new model of GPT 5 is coming with greater contextual understanding through which a user gets accurate answers to their command prompts.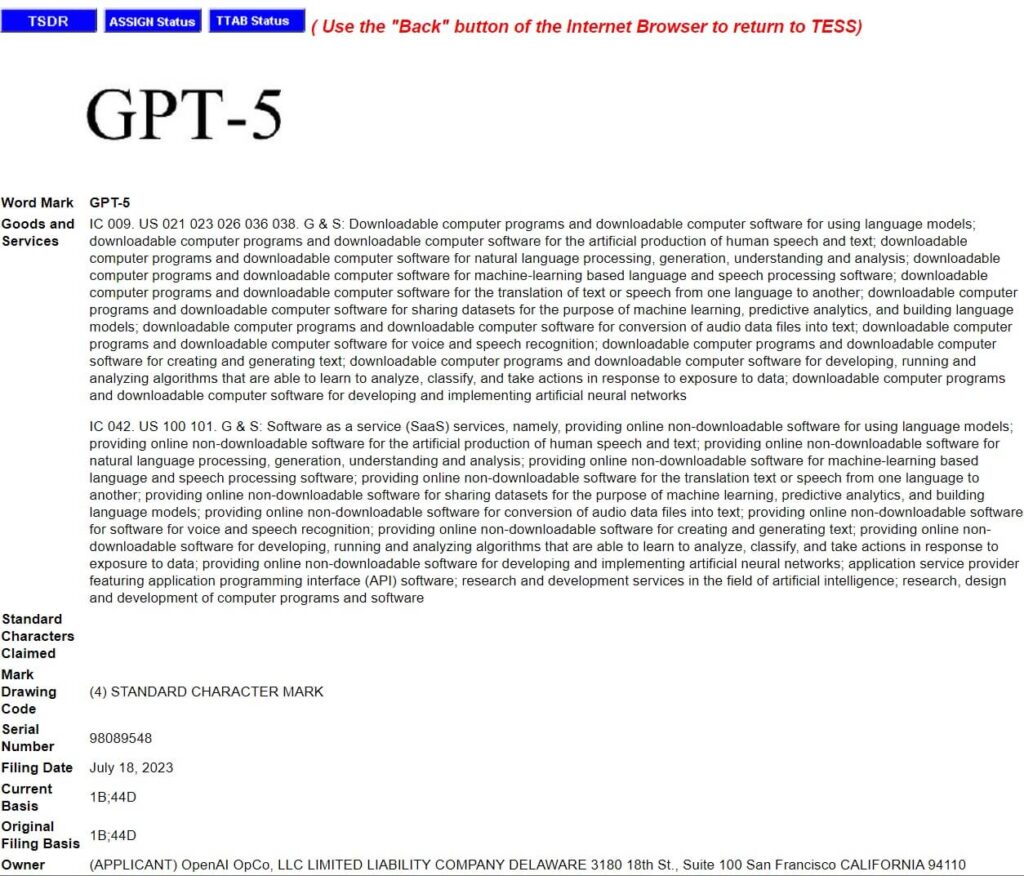 Image Courtesy: USPTO
OpenAI used several number of parameters in the new chatGPT, using numbers of parameters making chatGPT5 the most powerful AI tool of all time.
It is essential to remember that launching the new chatGPT 5 is not officially confirmed by OpenAI. The information mentioned above about launching GPT 5 has been collected from the reports presented on Google. However, the news for "Trademark Application by OpenAI " is an official news from Windows Latest.