Eden Park in Auckland is going to host its first ODI of the 3-match series between New Zealand and India soon. As per last T20I, due to rain, the match couldn't be performed, making cricket lovers sad. But the good part was that India managed to win that series. 
Auckland Cricket Stadium Boundary Length
Eden Park in New Zealand is a popular rugby stadium. But this stadium has hosted many cricket games. Being a rugby stadium, it has a rectangular field. The boundary length at this stadium is very unique. But it is the smallest in the world. Many experts say that, as per the ICC benchmark, the dimensions of this ground are very small. The Auckland Cricket Ground boundary length is 55 meters. It is also the reason that it is easy for the batters to cross the boundary ropes quickly. 
🏉🇳🇿 Les Blues d'Auckland 🔵 confirment qu'ils joueront leur match à domicile de Super Rugby Pacific 🌊 à l'Eden Park en 2024 et en 2025 🏟 Le premier match de la saison se jouera à Whangarei pour honorer leur lien avec le Northland #Rugby #NewZealand #SuperRugbyPacific pic.twitter.com/bQQGDqorEH

— Nicolas Dendri (@Nicolasdendri) October 17, 2023
It's confirmed! The @BluesRugbyTeam will play their Auckland-based fixtures at Eden Park for the 2024 and 2025 DHL Super Rugby Pacific seasons.

The first game at Eden Park takes place on Saturday 23 March and sees the Blues take on the Crusaders.#edenparknz pic.twitter.com/Zpyz98E9AV

— Eden Park, Auckland (@edenparknz) October 17, 2023
Eden Park Auckland Square Boundary Length
Eden Park in New Zealand's square boundaries is a little bigger, as per many experts. They are around 65 meters. That makes this stadium one of the smallest in the world. 
Read more: – Fastest 1000 Runs in ODI
In order to protect themselves from the batter's slamming, bowlers must target mid-wicket and square boundaries because the Eden Park boundary length is so short.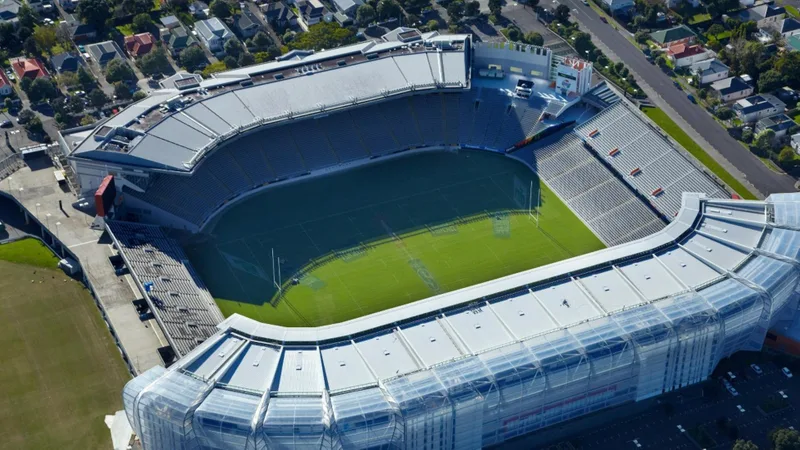 Auckland Ground ODI Records
As per the latest reports and articles online, Auckland ground odi records are as follows:
City
Auckland
Country
New Zealand
First ODI Match
22/02/1976
Last ODI Match
25/03/2023
Matches Played
79
Matches Won by Home Side
37 (46.84%)
Matches Won by Touring Side
35 (44.30%)
Matches Won by Neutral Side
2 (2.53%)
Matches Won Batting First
31 (38.75%)
Matches Won Batting Second
43 (53.75%)
Matches Won Winning Toss
38 (47.50%)
Matches Won Losing Toss
36 (45.00%)
Matches Tied
2 (2.53%)
Matches with No Result
3 (3.80%)
Highest Individual Innings
146*
M P Stoinis (Australia)
30/01/2017 v New Zealand
Best Bowling
6/28
M A Starc (Australia)
28/02/2015 v New Zealand
Highest Team Innings
340/5 (New Zealand)
17/02/2007 v Australia
Lowest Team Innings
73 (New Zealand)
06/01/2007 v Sri Lanka
Highest Run Chase Achieved
340/5 (Australia)
17/02/2007 v New Zealand
Average Runs per Wicket
28.36
Average Runs per Over
4.78
Average Score Batting First
219
Eden Park Auckland Dimensions
Eden Park Auckland dimensions are small, with a measurement of 55 meters straighter. It makes it extremely easy for the batters to cross the boundary ropes. Here, the square boundaries are a little bit larger and are roughly 65 meters.
| | |
| --- | --- |
| Boundary | Distance |
| Straight | 55 meters (180 feet) |
| Square | 65 meters (213 feet) |
| Field size | 147 meters x 152 meters (482 feet x 499 feet) |
| Circumference | 559 meters (1,834 feet) |
Want to Know: Whos is God of T20 Cricket?
New Zealand Cricket is considering scrapping Eden Park in Auckland as an international venue, with only the rarest of fixtures financially viable at the stadium.

MORE ➡️ https://t.co/DahNnBD7f2 pic.twitter.com/rdnAuIcVQX

— ICC (@ICC) May 22, 2018
Auckland Cricket Ground
With a capacity of 50,000, Eden Park is easily the largest stadium in New Zealand. Since 1910, Eden Park has been the home of Auckland cricket. In the winter, it serves as a major rugby venue. After hosting the first final in 1987, it became the first location to host two Rugby World Cup finals in 2011.